PATHWAYS TO EQUITY 2-PART WEBINAR SERIES: A HISTORY OF RACE AND DEVELOPMENT
2-PART WEBINAR: 8/11 & 8/18 @ 6:00-7:30PM.
Attendance is required for both sessions to enhance interaction and learning outcomes.
This webinar series begins by presenting a broad view of the impacts of systemic racism in the built environment, and applying learning to examine how our role as designers can disrupt those systems. This two part webinar series introduces the history of racial injustice by presenting case studies, sharing knowledge, engaging in small group discussion, and supporting personal and collective actions of accountability.
Pathways To Equity is a training program offered through Open Architecture Collaborative. Considered a boot camp for community engagement, P2E brings designers and activists together to foster social equity and drive community partnerships. The program teaches inclusionary methods and proactive processes such as active listening, engaged research, intensive self-reflection, restorative justice, trauma-informed practices, and responsive iteration towards social impact design.
PRIOR TO REGISTERING: Please take 2 minutes to fill out this survey, which will be used in Part 2 of the webinar series.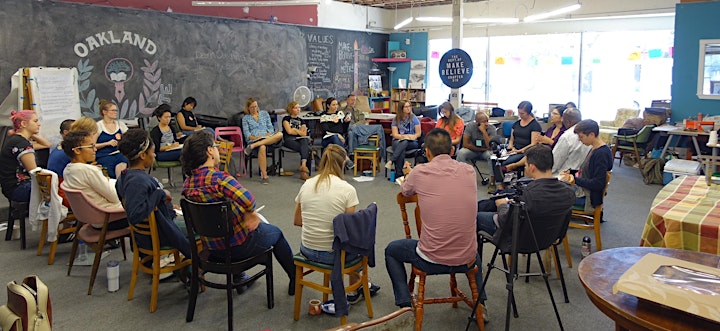 Part 1 (August 11th at 6pm): A History of Race and Urban Development in the United States.
Session Description:
This session will provide an overview of examples of how racial injustice is embedded in our built environment. Participants will learn about the history of race-based zoning, redlining, block-busting, racially restrictive covenants, and other determinants of inequity in the built environment. Participants will gain a better understanding of racial segregation in our cities, and the long-lasting impacts that have an influence on current inequities.
Participants will engage in small group discussions with facilitated prompts to build understanding and process information presented.
Part 2 (August 18th at 6pm): Learning From History to Take Personal Accountability
Session Description:
The tools and practices designers learn in education and the profession look similar to those used to build systems of oppression into our shared built environment. Exposing that racialized history is a precondition to connecting and using the tools of environmental design to build just cities. Candid reflections on this topic are needed to disrupt the status quo. This session will frame the context from Session1 and move towards personal responsibility and behavior change to take the steps towards a more equitable built environment.
Participants will learn practices to identify biases, disrupt patterns of status quo and build a reflective practice as a step towards behavioral change.
Instructors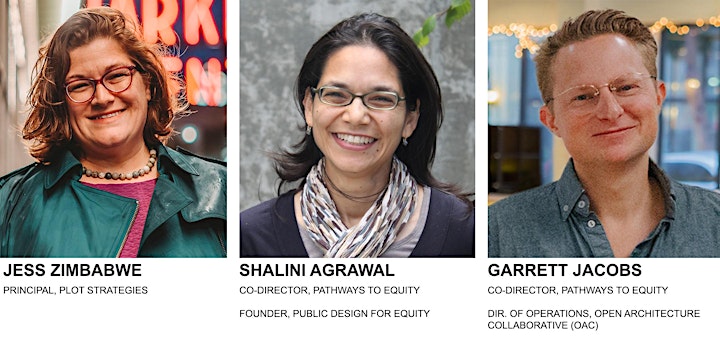 Jess Zimbabwe is the Principal of Plot Strategies. Until recently, she served for ten years as the founding Director of the Daniel Rose Center for Public Leadership—a partnership of the National League of Cities and the Urban Land Institute. Before that, Jess led the Mayors' Institute on City Design, and was Community Design Director at Urban Ecology in Oakland. She serves on the boards of Next City, Main Street America, and Colloqate. She is a licensed architect, a LEED-Accredited Professional, and a member of the urban planning faculty at Georgetown University.
Shalini Agrawal brings over 25 years of experience in community engagement, and has dedicated her career to bringing diversity and equity in design, art and architecture. She is co-director of Pathways to Equity, a leadership experience supporting responsible community-engaged design, and founder and principal of Public Design for Equity, an equity-driven practice for equity-driven outcomes. Shalini is on the board of Architects Designers and Planners for Social Responsibility, and Association for Community Design as their Director of Fellowship. She is Associate Professor in Critical Ethnic Studies and Interdisciplinary Design Studios at California College of the Arts.
Garrett Jacobs is the Director of Operations of the Open Architecture Collaborative (OAC) and the Pathways to Equity Co-Director. Garrett serves as the Chief of Finance and Operations for Designing Justice Designing Spaces, a non-profit architecture and real estate organization working to end mass incarceration and its root causes. Garrett collaborates to provide operations, finance, strategy and fundraising services balanced with a focus for community engagement, self awareness, and interdisciplinary and multicultural team building. He has worked with Code for America coordinating their Peer Network and managing government relations through their Fellowship program. During this time he became immersed in technology and how it can be used to bring people together and necessity for interdisciplinary programming. While studying Architecture in New Orleans, Garrett was deeply affected by Hurricane Katrina which solidified his commitment to community, equity and racial justice.
Note: Proceeds from ticket sales will be donated to Native American Land Trusts in New York, the Bay Area and Seattle.