Events
Nature Inside – A Biophilic Design Workshop with Bill Browning & Catherine O. Ryan
Nature Inside – A Biophilic Design Workshop with Bill Browning & Catherine O. Ryan
About this event
A Nuanced Look at Science & Implementation
As Biophilic Design becomes an increasingly important aspect of Interior Design, we are pleased to offer this in-depth look at how to bring Biophilic Design into your practice with the leading experts in the field.
This 2.5 hour workshop experience – informed by insights from neuroscience, environmental psychology and endocrinology to identify elements of nature that enhance the cognitive, psychological and physiological human experience of the built environment – focuses on nurturing a deeper, nuanced understanding of the science of biophilic design, and explores tools and strategies for carrying the biophilic narrative, principles and goals through the design process.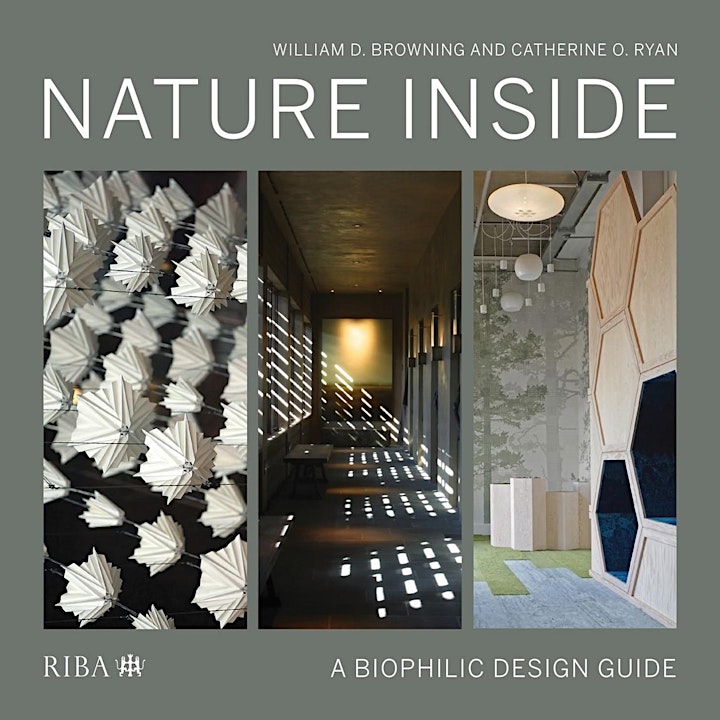 The event starts at 12:00 PM with lunch being served. The workshop will begin promptly at 1:00 PM.
Participants should already have a basic knowledge of biophilic design patterns and concepts and some experience applying biophilic design to their own projects. In preparation for the workshop please read 14 Patterns of Biophilic Design.
PRICING:
Members – $20 (REDUCED PRICE – WAS $40)
Non-Members – $35 (REDUCED PRICE – WAS $60)
As a special offer for workshop participants, signed hard copies of Nature Inside may be purchased at a discounted price! Nature Inside highlights:
37 case studies
200+ color photos
Toolkit with guidelines, actions and other resources
ABOUT BILL BROWNING, HON.AIA, LEEP AP
Bill Browning is one of the green building and real estate industry's foremost thinkers and strategists, and an advocate for sustainable design solutions at all levels of business, government, and civil society. His expertise has been sought out by organizations as diverse as Fortune 500 companies, leading universities, non-profit organizations, the U.S. military, and foreign governments. Bill began working with biophilia in the 1990s, helping to identify some of the early research and contributing foundational concepts to Biophilic Design: The Theory Science and Practice of Bringing Buildings to Life (2008) that are still utilized today. Bill's interiors collaborations have included ASID, Clif Bar, Google, Interface, and Salesforce, as well as several private homes and developments. Bill is a founding board member of the US Green Building Council, a recipient of the 2015 ASID National Design for Humanity Award, and co-author of Nature Inside, A Biophilic Design Guide (RIBA, 2020). Bill is based in Washington, DC.
ABOUT CATIE RYAN, WELL AP, LEEP AP BD+C
Catie is the director of projects at Terrapin Bright Green with over twenty years of experience in design and environmental sustainability. Catie has worked on biophilic design research, strategy and implementation with a range of interiors projects and collaborators including 1 Hotels, Google, and the Port of Portland, Oregon's PDX airport terminal redevelopment. Catie is co-author of Nature Inside, A Biophilic Design Guide (RIBA, 2020), 14 Patterns of Biophilic Design (2014), and The Economics of Biophilia (2012), as well as Google's Biophilic Design Framework. She is an advisor to the International Living Future Institute's Biophilic Design Initiative, has served as a member of GSA's Workplace Advisory Group, and as an advisor to the WELL Building Standard. Catie is based in Brooklyn, NYC.
SPACE IS LIMITED & REGISTRATION IS REQUIRED!
Date:  Wednesday, May 11th
Time: 12:00 PM – 3:00 PM
Location: 138 Greene Street, New York, NY (Between Houston & Prince Street)
Attendees can click the RSVP buttons and choose a "non-member" ticket.  The "GUEST15"  promo code will discount the registration by an additional $15.